Terumo Corporation is founded in 1921 as Sekisen Ken-onki Corporation by a group of medical scientists. Terumo contributes to society by providing valued products and services in the healthcare market and by responding to the needs of patients and healthcare professionals. Terumo ensures safety and reliability in healthcare, we view each issue from a "Gemba" perspective in order to find the optimal solution. The company deals in products and services that create meaningful value in a timely manner.
Destination Guiding Sheath is designed to perform as a guiding catheter and an introducer sheath. Destination is designed to be used for the introduction of interventional and diagnostic devices into the human vasculature, including but not limited to the lower extremities, renal arteries, and carotid arteries. Allows smooth transition and easy penetration. Maintains shape and positioning: Outstanding durability, even in the longest procedures. Enhances visualization for precise positioning
Coronary microguide catheter for integration of optimal guidewire support, superior trackability and crossability. FINECROSS MG stainless steel braid construction is designed to provide strength, responsiveness and support for improved pushability to access and cross complex lesions. The outer diameter of the stainless steel shaft tapers from a proximal 2.6Fr. to a distal 1.8Fr. designed for improved crossability and guidewire handling.
Radifocus® Guidewire M Standard Type
Description
Radifocus Guidewire M Standard type is a Nitinol hydrophilic guidewire covered with polyurethane containing tungsten and a hydrophilic polymer coating (M Coat) for complete, low friction maneuverability.
Indicated for use for standard angiography in coronary and peripheral territories, catheterization, embolization, peripheral angioplasty and stenting (with or without an exchange wire), and subintimal angioplasty in small, standard or large proximal or distal vessels.
Characteristics
Highly flexible, tapered tip for atraumatic and controlled navigation through vessels
Hydrophilic "M" polymer coating for low friction endovascular steerability and trackability
Radiopaque polyurethane jacket for good fluoroscopic visibility and controlled navigation 
Superelastic Nitinol core:

features adaptable shape memory and high flexibility
prevents kinking for swift device exchange

One-piece construction with one-to-one torque transmission for predictable navigation
Rounded, atraumatic tip for the prevention of vessel trauma and low friction guidewire insertion
TYPES – GA35153M,GA35183M,GA35263M,PA35263M.
Runthrough NS-PTCA guide Wire
Description
Runthrough NS represents your PTCA guidewire family to cross any workhorse or challenging case.

Runthrough NS guidewire family is intended for use in interventional cardiology procedures.
Characteristics
The Duo Core direct-joint technology of Runthrough NS family delivers definitive torque response and easier, more flexible steering control1
The directly jointed stainless steel and nitinol shaft provides a superior torque transmission2
The nitinol alloy core to tip ensures a superior durable shaping memory3
The "M Coat" hydrophilic coating enables smooth manipulation even in tortuous anatomy
Guidewire segmentation map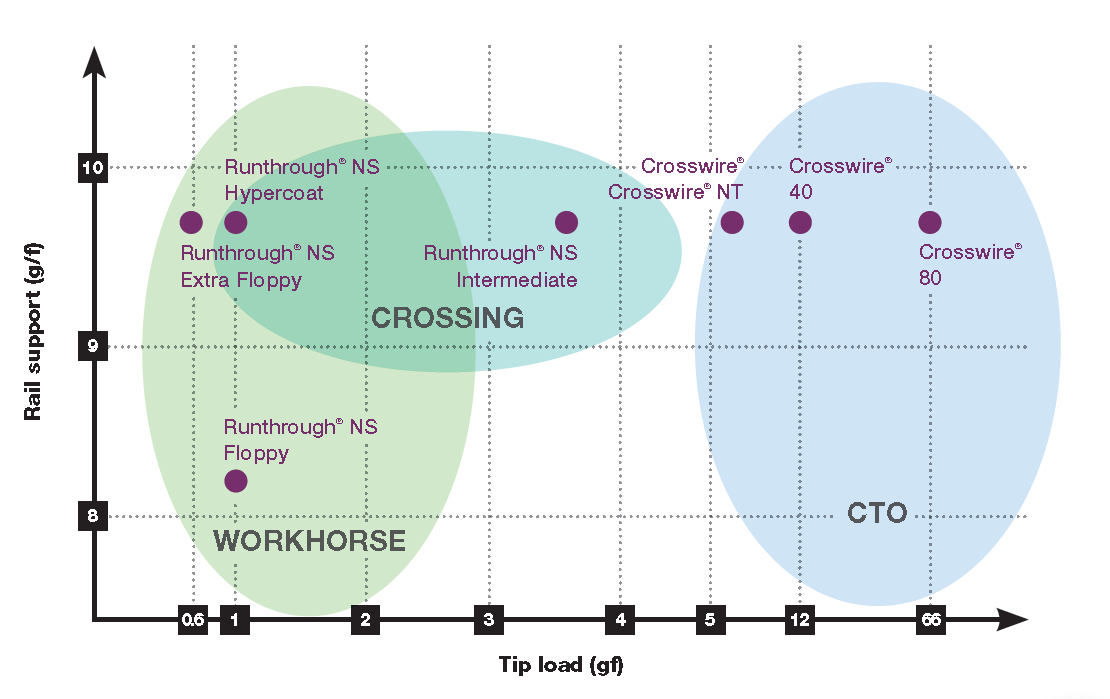 General specifications
| | |
| --- | --- |
| Diameter | 0.014″ (0.36 mm) |
| Wire length | 180 cm |
| Radiopaque length | 3 cm |
| Distal shape | Straight |
| Distal coating | Hydrophilic |
| Proximal coating | PTFE |
Item specifications
Item

Clinical
application

Tip load (gf)

Tip shaping part​

Rail support​

Coating

​Distal tip coating

Item reference

Runthrough® NS Extra Floppy

Workhorse

0.6 gf

​10 mm

​Extra support

Hydrophilic

​2 mm silicone

TW-AS418XA

Runthrough® NS Floppy

Workhorse

1 gf

​10 mm

Light

Hydrophilic

​2 mm silicone

TW-AS418FA

Runthrough® NS Hypercoat

Crossing

1 gf

​14 mm

​Extra support

Enhanced hydrophilic

​-

TW-DS418FH

Runthrough® NS Intermediate

Crossing

3.6 gf

​10 mm

​Extra support

Hydrophilic

​2 mm silicone

TW-DS418IA
OPTITORQUE® Coronary Diagnostic Catheter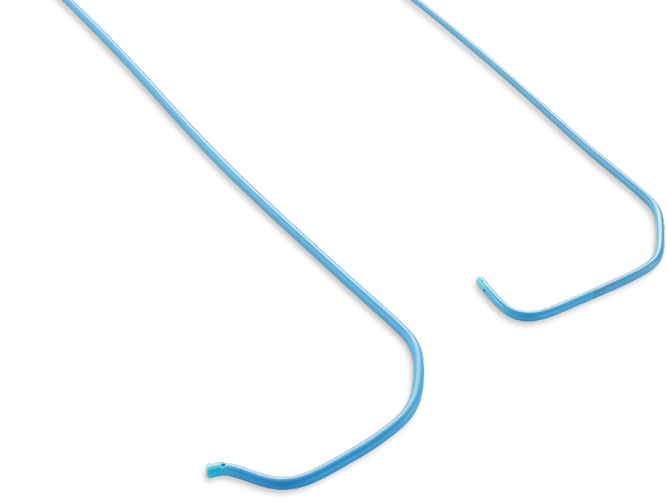 A complete line of coronary diagnostic catheters designed for optimum torque control and precise placement.

Radial specific curves designed to enable support and alignment during catheterization
Tiger and Jacky curve shapes available in two sizes for various anatomy
Enables angiography of both RCA and LCA with one catheter by eliminating a catheter exchange step and potentially shortens procedure and fluoroscopic time
Designed for coaxial alignment to the ostium, allowing the catheter to sit at the appropriate angle for optimal engagement
Large lumen allows high flow of contrast media and allows downsizing of French size
OPTITORQUE Radial-Specific Shapes
Shape Category

Product Code

5Fr/1.70 mm

Product Code

6Fr/2.00 mm

Shape Name
Length (cm)
Side Holes
Tiger
40-5011
40-6011
Radial TIG 4.0
100
1
40-5013
40-6013
Radial TIG 4.0
110
1
40-5012
40-6012
Radial TIG 4.5
100
1
40-5014
40-6014
Radial TIG 4.5
110
1
Jacky
40-5021
40-6021
Jacky Radial (Curve Size 3.5)
100
2
40-5023
40-6023
Jacky Radial (Curve Size 3.5)
110
2
40-5022
40-6022
Sarah Radial (Curve Size 4.0)
100
2
40-5024
40-6024
Sarah Radial (Curve Size 4.0)
110
2
OPTITORQUE Classic Shapes
Shape Category
Product Code 5 Fr/1.70 mm
Product Code 6 Fr/2.00 mm
Shape Name (cm)
Length Holes
Side Tip
Shape
Pigtail
40-5030
40-6030
Straight Pigtail
110
6
 
40-5031
40-6031
Angled Pigtail 155°
110
6
 
Judkins Left
40-5040
40-6040
JL 3.5 (Judkins Left 3.5 cm)
100
 
 
40-5041
40-6041
JL 4.0 (Judkins Left 4.0 cm)
100
 
 
40-5042
40-6042
JL 5.0 (Judkins Left 5.0 cm)
100
 
 
Judkins Right
40-5043
40-6043
JR 3.5 (Judkins Right 3.5 cm)
100
 
 
40-5044
40-6044
JR 4.0 (Judkins Right 4.0 cm)
100
 
 
40-5045
 
JR 5.0 (Judkins Right 5.0 cm)
100
 
 
Bypass
40-5050
40-6050
Internal Mammary
100
 
 
Amplatz
40-5060
 
AL 1 (Amplatz Left Small Type)
100
 
 
40-5061
40-6061
AL 2 (Amplatz Left Middle Type)
100
 
 
TR Band® Radial Artery Compression Device
Description
TR Band is a compression device designed to assist haemostasis of the radial artery after a transradial procedure.

Through the transparent structure designed for visual control and selective compression of the radial artery to allow blood return and preserve patency, TR Band assists in maintaining radial artery patency at the time of haemostasis in order to prevent future radial artery occlusion.1, 2
Characteristics
Selective compression of the radial artery to allow blood return and preserve patency1
Transparent structure for visual control of the puncture side
Two band lengths available for a precise fit and optimal patient comfort1
Velcro®3 straps make application fast and simple
Item specifications
| Size | Item reference |
| --- | --- |
| Standard size – 24 cm | XX*RF06 |
| Large size – 29 cm | XX*RF06L |
DESIGNED TO CONFIDENTLY DELIVER EMBOLOTHERAPY
Tungsten coil reinforcement for kink resistance2
PTFE inner layer is designed for exceptional guidewire tracking, with virtually frictionless delivery of coils and other embolics2
DMSO Compatible3    
Based on the mechanical testing
DESIGNED TO ENHANCE ACCESS TO SMALL, DISTAL VESSELS
TERUMO Glide TechnologyTM hydrophilic coating enhances navigation through tortuous anatomy1,2
Unique varied tungsten coil pitch construction provides distal flexibility and proximal pushability, enhancing vessel selectivity and catheter placement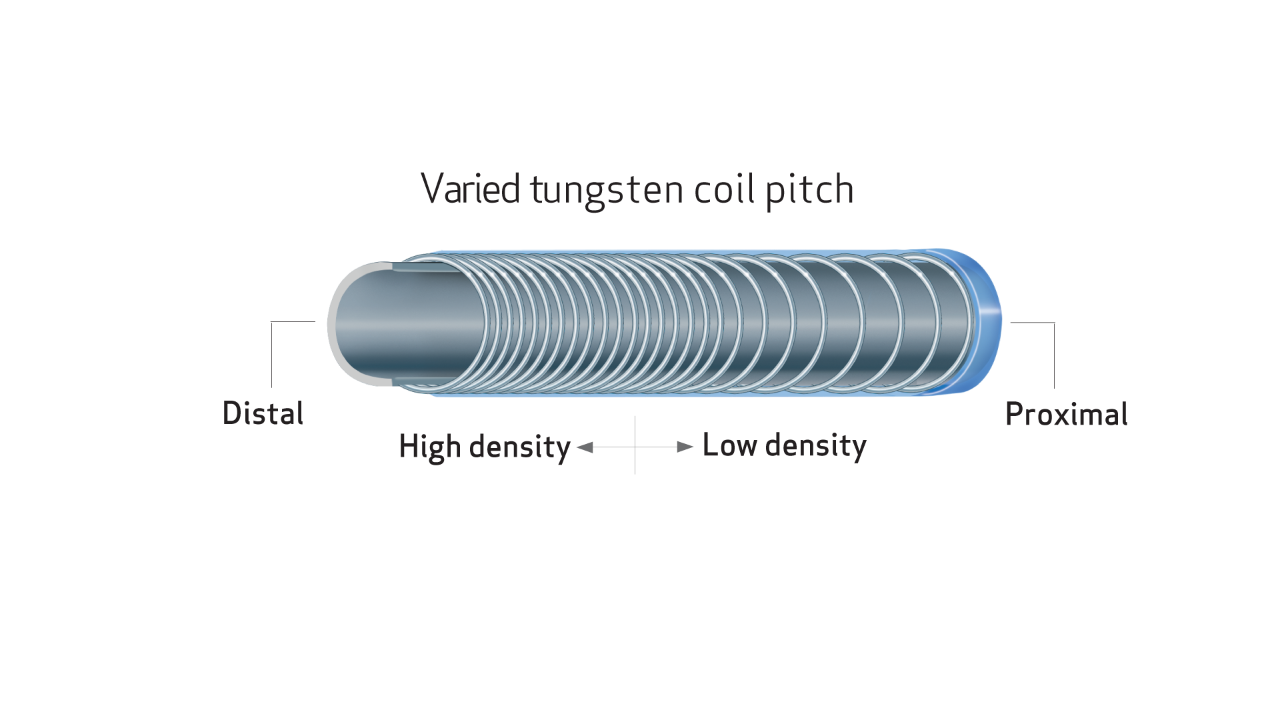 DESIGNED TO ENABLE RAPID, PRECISE POSITIONING WITH OPTIMAL VISIBILITY
Radiopaque 0.7 mm platinum/iridium microcatheter markers engineered into 110, 130, and 150 cm microcatheters
PROGREAT® COAXIAL MICROCATHETER SYSTEM
Preloaded with uniquely designed 0.021" GLIDEWIRE® GT1
Enables simultaneous preparation of microcatheter and guidewire, which may save time and increase procedural efficiency1
Proven to Reach Distal Vessels with Ease
PROGREAT 2.4 COAXIAL PROVIDES GREATER VESSEL SELECTIVITY AND DEMONSTRATED SUPERIORITY IN TRAVERSING TORTUOUS ANATOMY4
Coaxial construction supports highly compatible wire and catheter stiffness enabling category-leading trackability
PROGREAT 2.4 COAXIAL DEMONSTRATES SUPERIOR PERFORMANCE IN SUSTAINING A MORE DURABLE HYDROPHILIC COATING4
Terumo Glide Technology™ provides unsurpassed catheter lubricity for reaching distal vessels
PROGREAT 2.4 COAXIAL PROVIDES BEST-IN-CLASS KINK RESISTANCE – DEMONSTRATED AT THE DISTAL AND PROXIMAL SHAFT4
Supports highly reliable movement of the preloaded guidewire in challenging vessel anatomy
PROGREAT 2.7 Fr / 2.8 Fr coaxial microcatheter system (coaxial type with catheter and guidewire)
PROGREAT® Microcatheter Product Codes
Includes hemostatic valve and shaping mandrel
| | | | | | |
| --- | --- | --- | --- | --- | --- |
| Fr Size | Product Code | Length (cm) | Max Pressure | RO Markers | Hydrophilic Coating Length (cm) |
| 2.4Fr | MC*PB2411Y | 110 | 750 psi | 1 | 50 |
| 2.4Fr | MC*PB2413Y | 130 | 750 psi | 1 | 70 |
| 2.4Fr | MC*PV2415Y | 150 | 750 psi | 2 | 90 |
| 2.7Fr | MC*PC2711Y | 110 | 750 psi |   | 50 |
| 2.7Fr | MC*PC2713Y | 130 | 750 psi |   | 70 |
| 2.8Fr | MC*PB2811Y | 110 | 900 psi | 1 | 50 |
| 2.8Fr | MC*PB2813Y | 130 | 900 psi | 1 | 70 |
| 2.8Fr | MC*PV2815Y | 150 | 900 psi | 2 | 90 |
PROGREAT® Coaxial Microcatheter System Codes
Includes unique GLIDEWIRE® GT Guidewire, wire stopper, guidewire introducer, hemostatic valve, 2.5 mL syringe, and shaping mandrel
Fr Size
Product
Code
Length
(cm)
Max Pressure
(PSI)
RO Markers
Hydrophilic
Coating Length
(cm)
Glidewire® GT
Length
(cm)
Glidewire® GT Size
(in)
2.4 Fr
MC*PE24111YB
110
750
1
50
120
0.018
2.4 Fr
MC*PE24131YB
130
750
1
70
140
0.018
2.4 Fr
MC*PE24151YV
150
750
2
90
160
0.018
2.7 Fr
MC*PE27111Y
110
750
–
50
120
0.021
2.7 Fr
MC*PE27131Y
130
750
–
70
140
0.021
2.8 Fr
MC*PE28111YB
110
900
1
50
120
0.021
2.8 Fr
MC*PE28131YB
130
900
1
70
140
0.021
2.8 Fr
MC*PE28151YV
150
900
2
90
160
0.021
Catheter OD
Length
(cm)
Inner Diameter
(in/mm)
Max GW
(in)
Embolic
Compatibility
Dead Space Volume
(mL)
Actual Flow Rate* (mL/sec) @ 750 psi
Actual Flow Rate* (mL/sec) @ 900 psi
2.4/2.9Fr
(0.80/0.97mm)
110
0.022″/0.57
0.018″
0.018″ Coils/HydroPearl® 
600 ± 75 μm
0.48
2.3
–
2.4/2.9Fr
(0.80/0.97mm)
130
0.022″/0.57
0.018″
0.018″ Coils/HydroPearl® 
600 ± 75 μm
0.53
2
–
2.4/2.9Fr
(0.80/0.97mm)
150
0.022″/0.57
0.018″
0.018″ Coils/HydroPearl® 
600 ± 75 μm
0.58
1.8
–
2.7/2.9Fr
(0.90/0.97mm)
110
0.025″/0.065
0.021″
0.018″ Coils/HydroPearl® 
800 ± 75 μm
0.57
3.5
–
2.7/2.9Fr
(0.90/0.97mm)
130
0.025″/0.065
0.021″
0.018″ Coils/HydroPearl® 
800 ± 75 μm
0.64
3.2
–
2.8/3.0Fr
(0.93/1.00mm)
110
0.027″/0.70
0.021″
0.018″ Coils/HydroPearl® 
800 ± 75 μm
0.61
4.1
4.7
2.8/3.0Fr
(0.93/1.00mm)
130
0.027″/0.70
0.021″
0.018″ Coils/HydroPearl® 
800 ± 75 μm
0.68
3.7
4.3
2.8/3.0Fr
(0.93/1.00mm)
150
0.027″/0.70
0.021″
0.018″ Coils/HydroPearl® 
800 ± 75 μm
0.75
3.1
3.9